Renault Alpine A310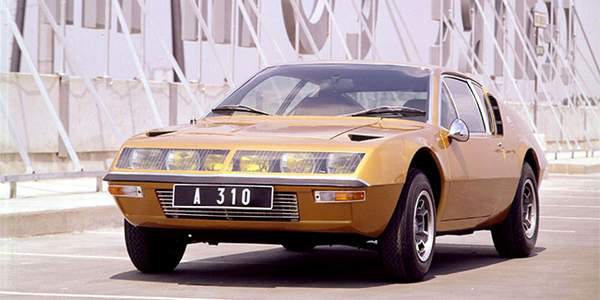 Renault Alpine A310
1971 saw the launch of the four cylinder Renault Alpine A310 at the Geneva Motor Show. This 2+2 coupe was designed to reach a wider audience than the Berlinette. The basis of the A310 was the traditional Alpine tubular steel backbone chassis (albeit much stronger this time), clothed in a tough fibreglass shell, driven by a rear mounted engine.
The car was initially powered by a tuned 17TS/Gordini four-cylinder engine with 2 twin choke Weber 45 DCOE carburettors. The maximum power was 125 hp. Early cars can be easily recognised by their almost continuous headlamp glasses across the front of the car.
In 1976 the A310 was restyled by Robert Opron and fitted with the newly-developed and more powerful 90 degree 2664 cc V6 PRV engine. This new engine, fruit of a collaboration between Peugeot, Renault & Volvo, made it possible for the A310 to compete with cars of the same standing and lifted the car into the lower echelons of the so called 'super-car' league, where until now Porsche had been the dominant player. The engine was still mounted longitudinally in the rear, driving the wheels through a manual 5 speed gearbox. With 149 bhp on tap, the A310 V6 was Renault's performance flagship capable of 220 km/h (137 mph) and (at the time) neck straining acceleration. Despite the tail-heavy weight distribution, handling was safe and rewarding.
The A310 had great success in French motorsport as a Group 4 car. In 1977 Guy Frequelin won the French Rally championship in an Alpine A310-V6.
In 1982 the GT version of the A310, which made its appearance at the Salon de l'Auto where it attracted a great deal of interest. The later models of the A310 were available with this "GT Pack" option which was inspired from the Group4 A310 racing cars. The cars gained wheel arch extensions and larger spoilers front and rear. The V6 was enlarged to 2849cc and modifications included 3 x Weber 42DCNF carburettors and high lift cams that pushed power to 193 bhp.
Production ended in 1984.
Production Numbers
Please note that these are the official production numbers for vehicles built at the Dieppe Alpine factory.
| | |
| --- | --- |
| Version | Total Production |
| A310 VE/VF/VG 4cyl | 2340 |
| A310 2700VA 6cyl | 9276 |
| TOTAL | 11616 |
Production number by year. All vehicle built were Left Hand Drive.
| | | |
| --- | --- | --- |
| Year | A310 VE / VF / VG | A310 2700VA |
| 1971 | 120 | |
| 1972 | 575 | |
| 1973 | 666 | |
| 1974 | 344 | |
| 1975 | 306 | |
| 1976 | 329 | 140 |
| 1977 | | 1220 |
| 1978 | | 1216 |
| 1979 | | 1381 |
| 1980 | | 1138 |
| 1981 | | 1284 |
| 1982 | | 1095 |
| 1983 | | 1139 |
| 1984 | | 663 |
| TOTAL | 2340 | 9276 |
Other models from Alpine